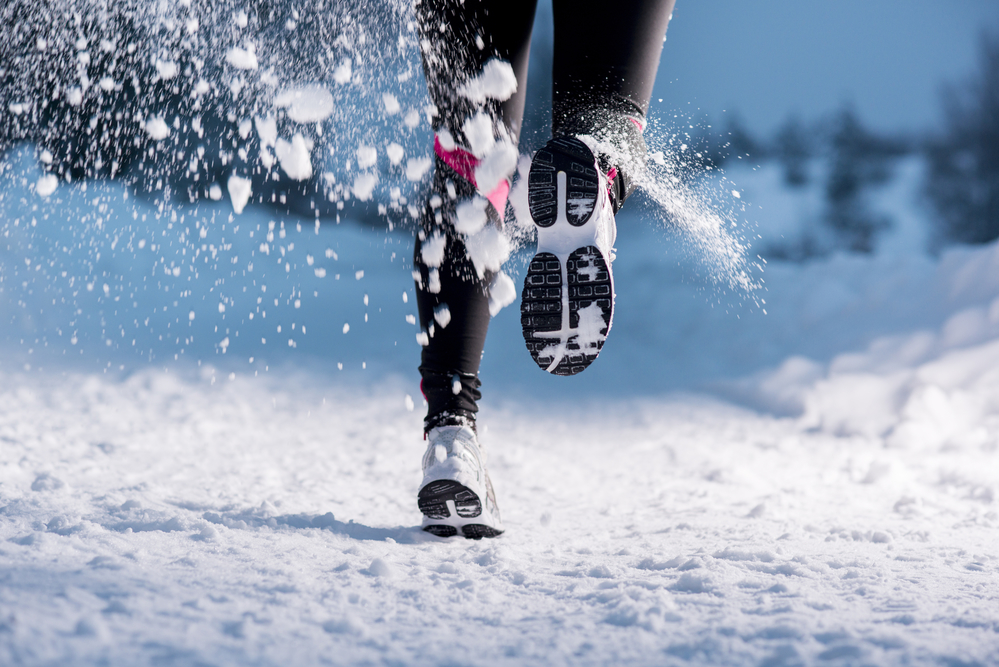 Cold Weather Running Tips
      Before you know it, it will be snowing. For some of us, it already has. Dedicated runners like you don't let that stop you though right? So before you step outside into the blistering weather, make sure that you are protected and safe. Make a few adjustments. The rules are a bit different than running in the summer and spring months. Here are few things to know.
1.Wear a protective shell.
It's critical that you wear some sort of waterproof windbreaker or shell to protect you from the wind and precipitation. Gore-Tex is the best material to wear as it does a great job of releasing moisture from the body while also keeping out moisture from the outside elements. Nylon also does a reasonable job for a lesser price.  
2. Cover exposed skin as much as possible.
A hat and gloves are absolutely necessary once the temperature dips below freezing. Your body will lose the majority of its heat through any exposed skin, so cover up as much as possible. If it's really cold, you can cover exposed areas such as your face with Vaseline to reduce the potential of frostbite.  
3. Always wear reflective gear when running after dark.
Due to the decrease in daylight hours, it's more likely that you'll be running in the dark during the winter. Make sure you wear light-colored, reflective clothing so that you can easily be seen by oncoming vehicles.  
4. Run short loops.
When it's cold outside, consider running multiple laps of a short course, rather than one longer loop. This ensures that you'll never be far from home in the event of an emergency. Running a short course also ensures that you won't be heading into bad weather for an extended period of time, which, aside from being extremely unpleasant, can significantly lower your body temperature.  
5.Carry your cell phone, identification and money with you for an emergency.
If you run into a major problem, make sure you have your cell phone handy and enough cash to get you home if necessary. This is good advice for any run, at any time of year. Sometimes circumstances  leave you stranded and you definitely do not want to find yourself out in the cold, unable to run, and several miles from home without help.    

Learn how to make running easier:
Running Drills for increased stamina and endurance

Free 30 Day runner specific Exercise Challenge

Strength and Mobility Exercises

Postural and Stability Exercises

6 and 12 Week Training Plans

Step by Step Coaching

Audio running cues

Knee rehab program
Source: Active