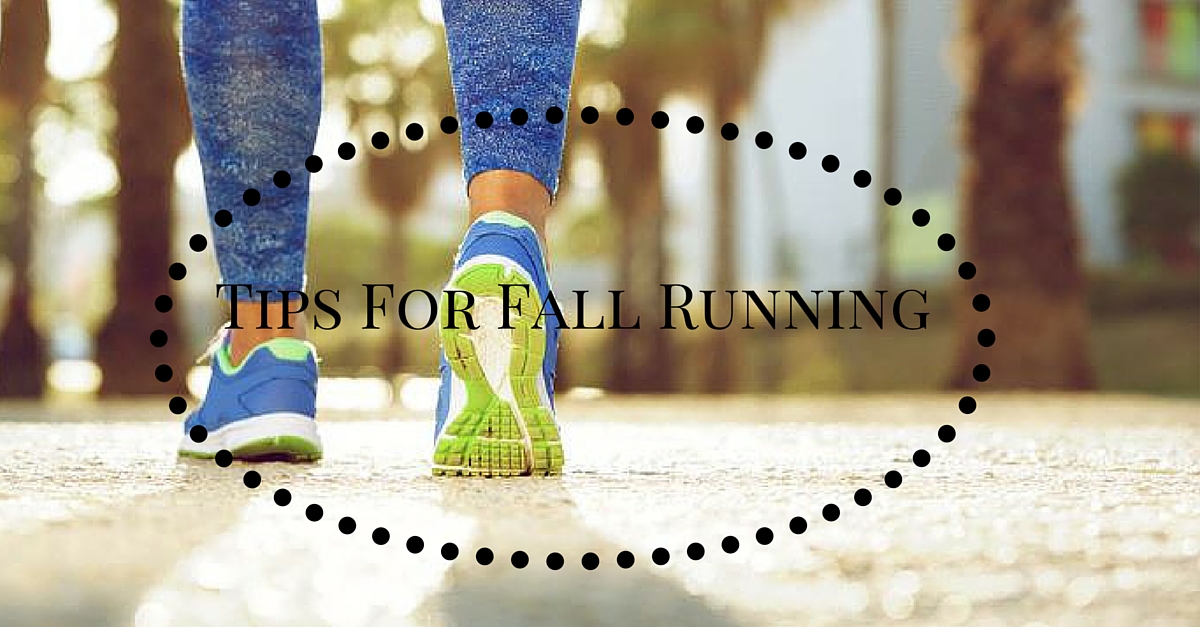 Tips For Running in Cold Weather
       Can you believe that we are already in the fall? Where did the summer go? My favorite part about this weather, is most definitely the change in the leaves ? ? and pumpkin flavored everything. For us runners though, there are a few things to remember as the season changes. The same rules don't always apply from summer to autumn. Enjoy this weather, before you know it, winter will sneak up on us!
Layer up
When you leave for a morning run, it's chilly, so you want long sleeves. Halfway through, as the sun rises, it will start to get warmer, so wear light layers. Don't wear too heavy layers, you'll be sorry!
Watch your step
I know I just mentioned the crunchy, fun leaves on the ground, but those beauties could be covering roots, holes, and other dangers to your precious feet. Also, wet leaves can be slippery, so be extra careful.
Apply some sunscreen  Don't put that sunscreen away just yet (or ever, for that matter). Although the sun's rays may be less intense this time of year, they still send plenty of UV rays your way. Once snow touches down, the rays will reflect off of that powdery goodness directly onto your skin. Better safe than sorry.    
Wear reflective gear
With fewer daylight hours, it's even more important to keep running safety in the forefront of your mind. Make sure cars can see you, especially if bad conditions have eliminated the sidewalk as an option and sent you onto the road.
Wear Bright Colors
If you run on trails or in more rural areas, be sure to wear bright, visible colors. Hunting seasons vary by location, and unfortunately, some irresponsible hunters may even find themselves on protected land that prohibits hunting. In this situation, it is better to be safe than sorry, so wearing bright, even fluorescent clothing, will make sure others are aware that you are a runner, and not some sort of animal. Further, autumn often brings darker, gloomier days, so wearing bright colors will also make you visible to traffic, cyclists, and other runners that you may encounter.
Hit the trails
Rich colors decorate Mother Nature during the fall, making trails every runner's playground. Take your run off-road and feast your eyes on the gorgeous sights. You'll be so enthralled with the beauty that the miles will tick away before you even know it!
  Add 10 Minutes   Even if you typically head out in the wee hours, a 10-minute sleep loss won't hurt. Start at a slower pace to ensure a good warm-up. The increased distance will burn more fat and ramp up your fitness.          
Get some new shoes   
Runners should replace their running shoes seasonally. It's an easy way to remember that it's time for new shoes and keeps your shoes fresh . Plus, what better way to motivate you to get outside and run than the prospect of trying out that shiny new pair of shoes? Your legs will feel great and you'll get in a good habit of replacing your shoes about every three to four months. 
Here are some more great cold weather tips….
Learn how to make running easier on your body:
Running Drills

Strength and Mobility Exercises

Postural and Stability Exercises

6 and 12 Week Training Plans

Step by Step Coaching
Find out more Click Here!
[ulp id="UPqhUAICWuCfYVZa"]