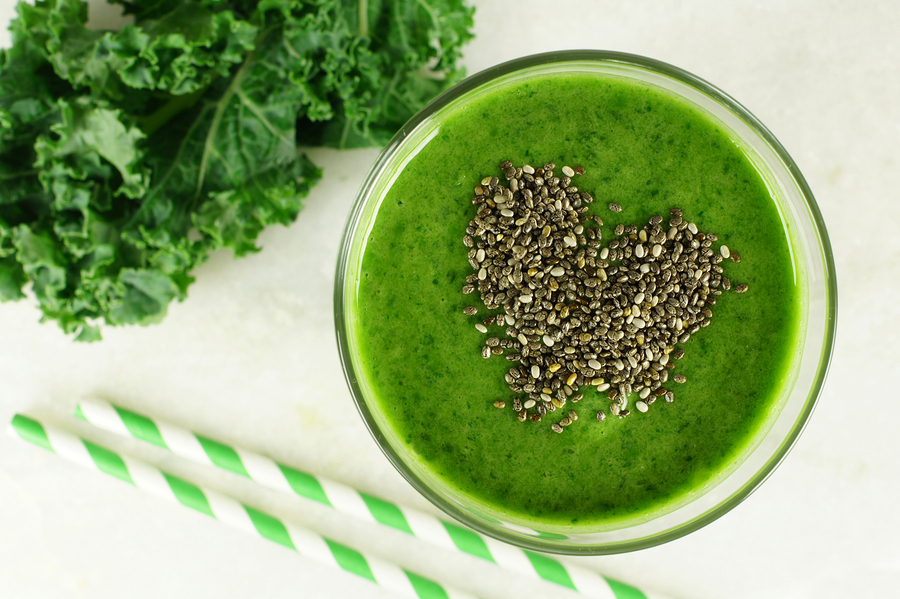 Kale Smoothie
I
f you love kale, then you are sure to love these 3 recipes. Kale has so many wonderful benefits. It is definitely one of the healthiest and most nutritious plant foods in existence. One cup contains nearly 3 grams of protein, 2.5 grams of fiber, vitamins A, C, and K, and  Folate, a B vitamin ,which is key for brain development. Convinced to try it? Here are 3 easy recipes to follow. Enjoy!
Kale-Apple Smoothie   
Serves 1
Ingredients
3/4 cup chopped kale, ribs and thick stems removed 1 small stalk celery, chopped 1/2 banana 1/2 cup apple juice 1/2 cup ice 1 tablespoon fresh lemon juice
Directions
Place the kale, celery, banana, apple juice, ice, and lemon juice in a blender.
Blend until smooth and frothy.
Kale Smoothie With Pineapple and Banana   
Serves 2
Ingredients
1/2 cup coconut milk 2 cups stemmed and chopped kale or spinach 1 1/2 cups chopped pineapple (about 1/4 medium pineapple) 1 ripe banana, chopped
Directions
Combine the coconut milk, ½ cup water, the kale, pineapple, and banana in a blender and puree until smooth, about 1 minute, adding more water to reach the desired consistency.
Spinach, Grape, and Coconut Smoothie    
Serves 1
Ingredients
1 cup seedless green grapes 1 cup packed baby spinach 1/2 cup ice 1/4 cup coconut milk
Directions
Place the grapes, spinach, ice, and coconut milk in a blender.
Blend until smooth and frothy.
Recipes from Real Simple Food 
[ninja-inline id=6830]