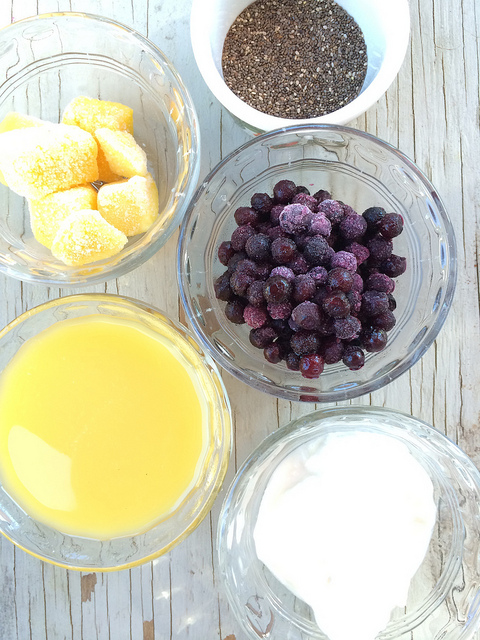 Benefits of Chia Seeds
Hopefully by now you all know the benefits to eating chia seeds. Lets see….they are rich in omega-3 fatty acids, they are an excellent source of fiber, Chia seeds are rich in antioxidants that help protect the body from free radicals, aging and cancer, two tablespoons of chia seeds contain 18 percent of the DRI for calcium, they contain no gluten or grains, and did I tell you that they can play an important role in regulating insulin levels. Enough to convince you to try them? I hope so, here are a few recipes that I highly recommend that you try. Which one is your favorite?
1. Raspberry lemonade chia drink    
Add the following to a pitcher:
2 cups of coconut water
Juice 1/2 lemon
3/4 cup of blended raspberries
2 teaspoons of coconut sugar
3 tablespoons of chia seed
Let it sit for 30 minutes until it has formed a gel-like consistency. Enjoy the drink!
2. Raw cherry and chia bars   
In a food processor, add the following:
1 cup of raw pecans
1/2 cup of dried cherries
1/4 cup raw pumpkin seeds
2 tablespoons of chia seeds
1/3 cup of almond butter
2 tablespoons of maple syrup
1/4 cup of shredded coconut
Grind until a paste is formed, about 2 minutes. Add mixture to a baking try and place in the refrigerator for 2 hours. Slice into bars and serve.
3. Lemon and mango chia parfait    
Place 3 tablespoons of ground white chia seed in a mason jar and pour over a can of coconut milk.
Add a pinch of vanilla bean, 1 teaspoon of lemon zest and 3 tablespoons of maple syrup.
Let it sit for 30 minutes or overnight until thick.
Pour into serving glasses then top with freshly sliced mango.
4. Cacao, chia cherry ice-cream         
Add the following to a blender:
1/4 cup chia seeds
1.5 cans of coconut cream
2 tablespoons of cacao powder
3 tablespoons of maple syrup
1 tsp vanilla extract
1 ounce melted unsweetened chocolate
4 pitted dates
Let it sit for 15 minutes then blend for 60 seconds or until smooth. The mixture should be thick and creamy. Transfer the mixture to an ice cream maker and churn according to the manufacturers instructions. Freeze until firm enough to scoop.
5. Matcha chia smoothie    
Blend 12 ounces of almond milk with 1 teaspoon of matcha green tea powder, 2 pitted dates, 2 cardamon pods and a pinch of vanilla bean for 30 seconds.
Pour into a large mason jar.
Add 1 tablespoon of chia seed and shake it well.
Let it sit for at least 15 minutes until chia seeds starts to swell. Serve over ice.
Original article here
photo source
[ninja-inline id=6830]