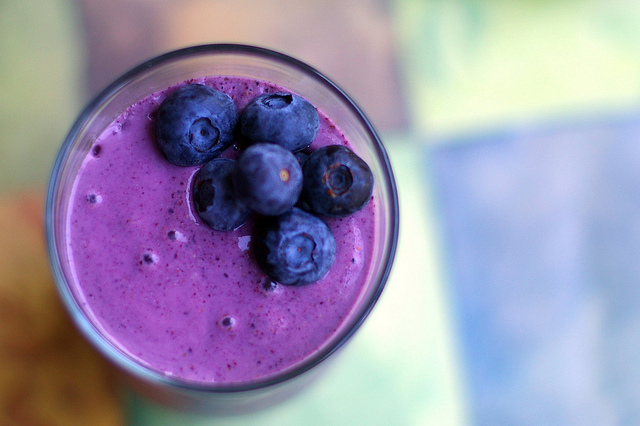 Smoothie Recipes for Every Day of the Week
      Do you get bored like me with the same old breakfast or snacks? Need a little variation? Here are 8 smoothie recipes to shake up your routine a bit and give you some variety. These are all very easy recipes to make with no more than 6 ingredients. Just a few steps! 
1. PB&J Smoothie  
Ingredients:
1 cup plain, nonfat Greek yogurt
½ cup unsweetened vanilla almond milk
2 packets Truvia or Stevia
25 organic green grapes
½ cup peanut flour
4 ice cubes
In a high-speed blender, add the Greek yogurt, milk, sweetener and grapes. Blend until you no longer see the grape skins. Add the peanut flour and ice and blend until completely smooth. Serve immediately or store in the refrigerator for later.
2. Pineapple Coconut Smoothie  
Ingredients:
1 cup fresh pineapple, chopped
¼ cup coconut milk
¼ cup vanilla (or coconut!) Greek yogurt
1 tbsp sweetened flaked coconut
ice
3. Coffee and Banana Smoothie  
Ingredients:
1 peeled, sliced banana
1 cup 1% low-fat milk
½ cup cold black coffee
2 teaspoons sugar/stevia
½ cup ice
4. Creamsicle Breakfast Smoothie  
Ingredients:
1 cup cold pure coconut water, without added sugar or flavor
1 cup nonfat vanilla Greek yogurt
1 cup frozen or fresh mango chunks
3 tablespoons frozen orange juice concentrate
2 cups ice
5. Chocolate Cherry Breakfast Smoothie   
Ingredients:
¼ cup frozen unsweetened cherries (not thawed)
½ cup sugar-free vanilla yogurt
¼ cup nonfat milk
1 tablespoon unsweetened cocoa powder
4 ice cubes
1 teaspoon honey (optional)
6. Pineapple Passion Smoothie  
Ingredients:
1 cup Greek vanilla yogurt
6 ice cubes
1 cup pineapple chunks
Instructions:
Combine the yogurt and ice cubes. Blend, pulsing as needed, until the ice is in large chunks. Add the pineapple and blend at "whip" speed until smooth.
7. Cinnamon Apple Smoothie  
Ingredients:
8 ounces coconut water
1 teaspoon vanilla extract
1 teaspoon ground cinnamon
1 cup chopped apple (about 1 medium apple)
1/2 scoop unsweetened protein powder
1 tablespoon flaxseed meal (ground flaxseed)
8. Pineapple Kale Blueberry Smoothie   
Ingredients:
3 ounces vanilla nonfat Greek yogurt
1 tablespoon almond butter
1/2 cup frozen blueberries
1/2 cup frozen pineapple
1 cup kale
3/4 cup water
Did I say 8? Here is a bonus!
9. Raspberry Chia Smoothie   
Ingredients:
1 cup frozen raspberries
¾ cup apple juice
½ cup plain yogurt
1 banana
1 tablespoon chia seeds
½ teaspoon pure vanilla extract (optional)
Image source
Article source 
mail[ninja-inline id=6830]