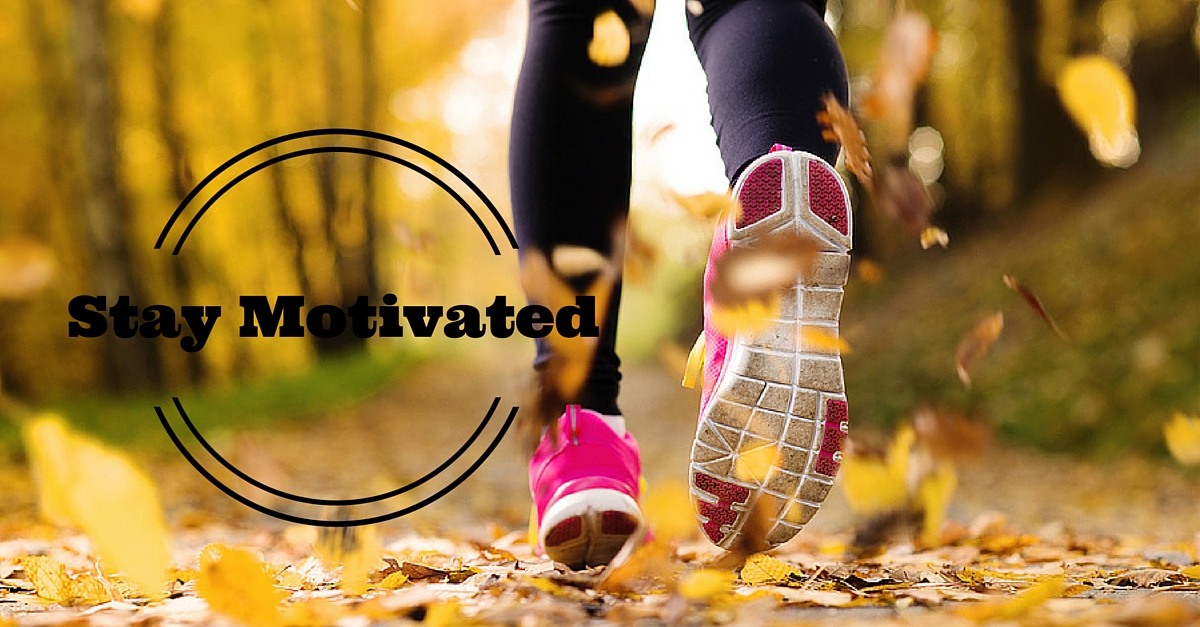 Secrets for Staying a Motivated Runner
No doubt it can easy to loose motivation when you are a runner. Busy schedules, kids schedules and work can get in the way. Sometimes just missing a few days can lead to many more.   [pullquote align="full" cite="" link="" color="#ff9900″ class="" size=""]"Runners who are consistent with good habits have the most success," says Tom Holland, an exercise physiologist, sports nutritionist, coach, and author of The Marathon Method.[/pullquote]
The benefits of healthy habits lead to a better life beyond running, too. So here are 10 ways to keep you going..
Set Goals

Goals are some of the best drivers for motivation. Therefore, write them down and be as specific as you can. Whether you want to shed 15 pounds of fat, run a sub-3 hour marathon, or complete your first adventure race, give yourself one major purpose and put it on paper.

Make it a habit

We humans are creatures of habits. We tend to repeat the same physical and mental patterns from one day to the next—all this on autopilot and for better and worse. So put this instinctive power into your advantage and turn your running routine into a habit.

Prepare the Night Before

Nothing kills motivation more than non-prepared mind. So get your mind out of the gutter and prepare all your running kit the night before. Leave your running shoes, clothes and a preset playlist by your bed ready for the run. Once the alarm goes off, you'll know what to do without much second-guessing.

One Mile equals 100 Calories

Yeah that's true. With every mile you log in, you burn approximately a 100-calorie. Of course, this number is not that accurate since calorie burn depends on intensity, age, weight and other factors. But it's accurate enough. This is more motivating if you are looking to shed some pounds.

Remember why you started

When we lose touch with the reasons why we started running in the first place, motivation gets pushed to the side. So, forget about time, intensity and any other training factor, and focus on the reasons that get you started in the first place. Strip down and go back to basics.

Invest in Gear

Even the most sedentary person can't say no the allure of shiny new gear. A good running shoe—it does not have to be that expensive—can help you run right and prevent injuries.

Furthermore, running clothes that are made of fabric that wicks away moisture is another good piece of gear you may consider. Also, Shoe pad and GPS are some of  other gears that can help you rush in more motivation for the run.

Run with a Buddy

It's no secret. When you schedule a run with a partner, you are more likely—both of you—to log in that run. Training with a buddy is the exact thing you need to get you out of training rut, give you the push you need. Plus, opting for companionship may help you ward off the monotony of the long run.

Reward Yourself

After achieving one of your goals, reward yourself for reaching it. Nobody will do that to you but you. You are the only one who care about your success. So treat yourself constantly for sticking to your running program. Go get a good pedicure, a massage, your favorite ice-cream or treat yourself for a nice dinner out. Anything that will make you feel good.

Be Realistic

A challenging running plan—more than four workouts per week—will get your fitness soaring fast, but is it the realistic thing to do?  For most part, running too much leads to injury and burnout—physical and mental. So you are better off sticking to a plan of three workouts per week than giving up a more demanding schedule.

Run Trails

Tough trail runs challenge your body and mind like nothing else. Trails also will provide a training with a wonderful change of pace that will get you out of any training rut. Plus, the scenery is priceless. Just be safe and run with a partner and and a phone.
Read full article on Runners Blueprint here
Related articles