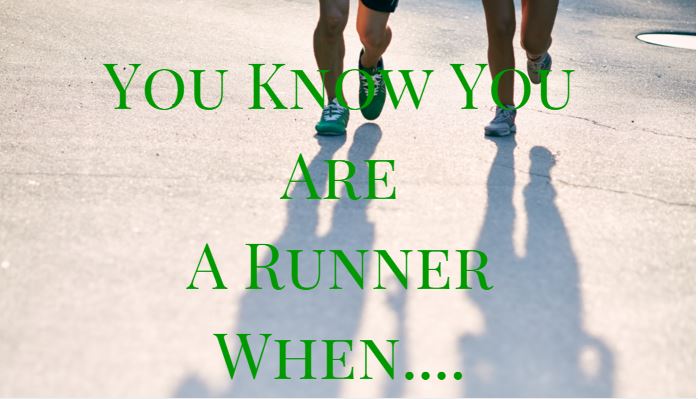 You know you're a runner when…
      I found this list on The Running Bug and I bet you can relate to almost all of them. I think plantar fasciitis could easily be one of the top searches on my browser these days. I could probably treat patients at my home with all of the knowledge I have! Which one can you most relate too?
…your shoes have more miles on them than your car
…you realise it's rest day and you don't know what to do with yourself
…the first thing you ask the doctor is 'can I still run?'
…you can spell and pronounce plantar fasciitis
…your washing basket is 95% running clothes and 5% everything else
…you pack more running clothes than casual clothes when you go on holiday …you're always hungry …you know where exactly one mile from your front door is in any direction …you get jealous when you drive past runners in a car …you plan your social calendar around your running races …you spend more time researching a new GPS watch than you do a new car
…you run up and down your driveway because your Garmin said 4.98 miles
…you know what an illiotibial band is, and where to find it
…you Google your name and all that comes up are race results
…all of your usernames have the word 'run' or 'runner' in them
…the first thing you do when you move to a new area is research running routes
…you get invited to a social event and automatically think about which race it's going to clash with
…you're excited to get a foam roller for your birthday
…the phrase 'It's all downhill from here' actually cheers you up …your running shoes are the most expensive shoes you own …you see someone running and try to guess their pace
…your entire birthday wish list can be found in a running store
…when someone asks you your plans for the weekend you respond in miles
…you can say the word 'Fartlek' without giggling …you're too tired to do housework but manage to go for an hour run …women, you own and wear more sports bras than regular bras
…you get offended when someone says they saw you 'jogging'
…you have bigger calves than biceps

Find out how to make running easier:
Running Drills

Strength and Mobility Exercises

Postural and Stability Exercises

6 and 12 Week Training Plans

Step by Step Coaching

Audio running cues

Knee rehab program
Find out more Click Here!
[ulp id="UPqhUAICWuCfYVZa"]